Choosing the right lawyer is a difficult decision.
It helps to see reviews from previous clients. Let us know if we helped you so that we can continue to help others.
Write a Review on Google
You need a Google Account to leave reviews on Google. If you do not have a Google Account, please see the section below. The name of the account will be listed with your review. Reviews cannot be left anonymously.
If you have a Google Account, you may be logged-in already. Otherwise, login when prompted.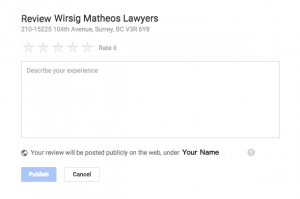 Please give us a review out of 5 stars and describe your experience with our lawyers and staff. Consider what information you would have liked to know before hiring a lawyer. We appreciate the feedback. Your review will also help others choose the right lawyer.
Click publish to submit the review. Thank you very much for your help. Reviews can be edited or deleted through your Google Account.
If you don't have a Google account..
If you do not have a Google Account, you can create one for free. You can create one with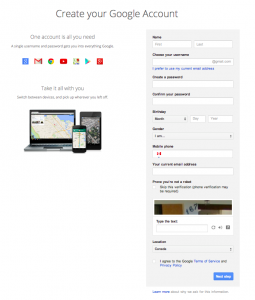 a new Gmail Account or using your existing e-mail account. For Gmail, just click the Create an account link at the sign-in screen. Complete the form and then click 

If you would like to create your Google Account using your existing e-mail address, please use this link instead. Complete the form as above. You will then be asked to create a Google+ profile. Uploading a picture is completely optional.
Click   

 to finish creating your Google Account.
Now you're ready to Get Started and Leave Your Review Now.
★★★★★
"I highly recommend Kirk's legal services based on his personal attention to my case as well as his in-depth knowledge, professionalism, and integrity. This man cares about you, your rights and getting the money you are entitled to by law." – Nancy Pyke
★★★★★
Sarando, I wanted to take a moment to express my gratitude to you, and your office for all of your time and effort on my claim. I had gotten used to being told "I can't help you" from professionals along my mystery medical journey and at our first meeting it was the first time in three years I'd felt supported and somewhat vindicated that I was not just over-reacting but indeed had been mistreated along my quest for LTD. – N. K.
★★★★★
Dear Martin, My husband and I wish to thank you for all your support and assistance throughout this past year. The stress of the termination of my disability benefits along with focussing on my health made for a very difficult time. Your professionalism and patience easing me through this process was greatly appreciated, more than you can imagine. We would be very happy to recommend your services. Again, thank you so much. – CL and AL